Creating anticipatory intelligence is nothing else than deciphering the dynamics of the world…
What will happen to us in the future? How shall we fare, collectively and individually? How can we improve how we deal with the future? How shall we cope with various dangers, pressures but also opportunities? Which are those issues, how do they evolve and what to expect next? Welcome to strategic foresight and warning and to the website of The Red (Team) Analysis Society.
Crucial issues on the watch
Mouse over the images to see the name of the issues on our watch, and click on one of them to access the corresponding section: towards a new paradigm; the future of the modern nation-state; protest movements; water security; energy security; extreme environments (space, arctic, deep-sea); environment and security; East Asia security; war; war in Syria (scenarios); and our latest addition, war in Ukraine.
How to foresee and warn?
Start with the basics, including understanding better the multiple names given to anticipation.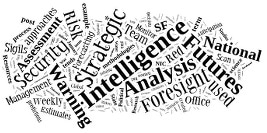 Learn how to use strategic foresight and warning, how to identify those issues to which we must pay attention, how to create strategic foresight and warning mapping, how to elaborate scenarios, how to select indicators, how to monitor a situation with those indicators, and finally how to best deliver the result of your efforts to decision-makers. Imagine how to improve anticipation and explore tools and methodologies. To those ends, use the methodological sections displayed as images below, that constitute an ideal strategic foresight and warning process: analyse, scan and monitor, evaluate, deliver (click on a photo to access the corresponding section).
Monitoring and Scanning
Every week, The Red (Team) Analysis Weekly scans the horizon for national and international security, using crowdsourcing. An editorial is published on Red (Team) Analysis with each edition of the Weekly.
The Sigils are a series of daily, raw (non edited) scan. Each focuses on a specific issue and can be read on Paper.Li (click on the corresponding image below to access it – full image credit in editorial on Paper.Li).
News & Events
Some news and (non confidential) events, workshops, training or interviews involving The Red (Team) Analysis Society.
European Union Institute for Security Studies (EUISS) and EEAS - Crisis management 2014: the EU record, 23 May 2014, Brussels (see Programme EUISS EEAS 23 May): Introduction and chair "Crisis rooms: towards a global network?' (Dr Helene Lavoix)
League Of Arab States, European Commission - League Of Arab States Liaison Office Malta, EEAS, UNDP – 27 February to 1 March 2014, Malta –  Early Warning Systems and Scenarios training workshop: co-training and co-facilitation (Dr Helene Lavoix)
Vesalius College – Brussels - Global Risk Analysis & Crisis Management Executive Course: Module 5 - Global Crisis Monitoring, Conflict Analysis & Early Warning – 31st January and 1st February 2014: Curriculum design and Training (Dr Helene Lavoix)
Royal Military Academy (KMS-ERM) – Chair of World Politics, Conflict Studies Department - Brussels – 6 January 2014: Ex-cathedralecture on Strategic Foresight and Warning and workshop on Time, Timeline and Strategic Warning (Dr Helene Lavoix)
Alliance Geostratégique (AGS) – Café Stratégique - Paris – 12 December 2013: Conference on War and Environment (guerre et environnement) (Dr Jean-Michel Valentin)
Event EEAS (EU) – High Level Conference on Managing Complex International Crisis: "Towards a Global Network of crisis rooms"- Brussels – 3 – 4 December 2013: Organisation and Moderation of Round Table B2 "Information Sharing – Communication" (Dr Helene Lavoix)
Vesalius College – Brussels - Global Risk Analysis & Crisis Management Executive Course – Module 2 - 'Analysing Risk, Preparing for Uncertainty' - 25 October 2013: Senior expert round-table (Dr Helene Lavoix)