The war in Eastern Ukraine has killed from 15 April to 20 June an estimated number of "423 people, including servicemen and civilians," (UN HCHR statement, 24 June 2014), which, compared with our own estimate of 99 deaths up to May 15 shows the rising violence of the ongoing fighting.
Refugees and Internally Displaced People (IDPs) from the East now reach "nearly 34,600″ people,  with nearly half of the displacements – estimated to 15,200 within the Donetsk and Luhansk regions – taking place "over the last two weeks", i.e. after 6 June 2014. Russia estimates that it now hosts 16,700 Ukrainian refugees on its territory, notably in the region of Rostov (Ria Novosti, 27 June; 14,000 on 25 June 2014, Itar-Tass). This, again, shows an intensification of the war and fear of renewed fighting. 
On 20 June, Petro Poroshenko, President of Ukraine, commanded a unilateral ceasefire that would last from 22:00 that day to 27 June to allow for the implementation of his peace plan in Eastern Ukraine, of course reserving the right to retaliate, would troops be attacked (President of Ukraine, 20 June 2014 20:13).
On 23 June a first negotiation took place involving "Russian Ambassador to Ukraine Mikhail Zurabov, two representatives of the OSCE, former Ukrainian President Leonid Kuchma, the head of the public organization "Ukrainian choice" Medvedchuk, the Prime Minister of the People's Republic of Donetsk Alexander Boroday, and the leader of the movement "South-East", Oleg Tsarev", which led the insurgents to agree to a ceasefire until 27 June (RFE/RL Live blog, 23 June 20:41; Ria Novosti, 23 June).
On 27 June, right before the expiration of the cease-fire, a second meeting including the same representatives plus
the Luhansk People's Republic (LPR) delegation – who were late on 23 June – led by Alexei Koriakin (President of the  Assembly) took place. There, an extension of the cease-fire until 30 June, besides the exchange of a list of prisoners and the final release of the OSCE hostages were agreed (LPR official website, 27 June 19:48). Later in the evening, President Poroshenko announced that the cease-fire was indeed extended until 30 June 22:00 on decision of Ukraine National Security and Defense Council – NSDC (President of Ukraine, 28 June 2014 00:27).
Are the cease-fire and the peace plan a window of opportunity opening, which will allow moving Ukraine outside crisis and war and towards peace? As peace can never be achieved without considering all parties, what is the perspective of the "insurgents", the self-proclaimed Donetsk People's Republic (DPR) and Luhansk People's Republic (LPR)? What is their situation, including in terms of international support, and in which direction is it likely to evolve (next post)? As a result, are we moving towards peace or intensified war?
Truce and fire
Over the first two days following Poroshenko announcement, combats went on, each side mutually accusing the other to initiate fighting (e.g. Ukraine Ministry of Foreign Affairs, 25 June 2014 statement; for the DPR and LPR side, see Novorossia News Agency).
After what could have been a very brief cease-fire on 24 June, the truce was broken by 16:00 according to Russian agency Ria Novosti, as Eastern cities were shelled.
According to Paul Gubarev (ex People's Governor of the DPR) Facebook page, the truce had never held, fire being notably exchanged, for example, in the region Semyonovka. Exchange of prisoners nevertheless took place (e.g. @DNRPress, 25 June 11:48) and the DPR finally released first four OSCE observers it held (OSCE, 27 June 2014) then all the remaining hostages (RFE/RL 29 June, 11:55).
Yet, mutual accusations to break the truce went on, for example over an attack of a National
Guard checkpoint near Slavyansk – Anti-Terrorist Operation (ATO) version (see RBC-Ukraine, 29 June 16:59) – and the heavy shelling of Slavyansk including residential areas – DPR and LPR version, as well as many inhabitants through Youtube videos (RT, "Slavyansk residential districts 'a mess' after Kiev troops' shelling, at least 3 killed (VIDEO)", 29 June). 
A first possible and logical explanation for continuing and renewed fighting is, besides plain bad faith from any or all parties, that both sides attempted to use the cease-fire to move troops to better tactical and strategic positions, thus planning ahead for the end of the cease-fire. Obviously, the other side cannot let such move happen. A second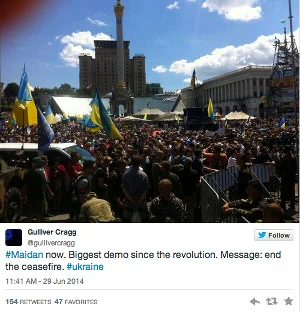 explanation is that peace-spoilers exist. Finally, and in a related way, we must also envision the possibility that Poroshenko may have less authority on the various elements composing the Ukrainian attacking forces than expected, and that he is under pressure to demonstrate Ukrainian strength, as shown by protests in Kiev demanding an end to the cease-fire, meanwhile also displaying anti-European sentiments  (e.g.  RFL/RE liveblog, 30 June 12:53 to 15:49).
The underlying logic is that the two parties do not really want peace: what they want if to achieve their objectives.
In any case, the continuing fighting underlines the high difficulty, if not impossibility, to implement a truce – or a peace plan – without the presence of many impartial observers, trusted by all parties, as underlined by  former President Kuchma on 26 June morning
"Unless we urgently ensure monitoring there, by observers from the OSCE (Organization for Security and Co-operation in Europe), Russia and so on, each side will be blaming the other, and nothing will come out of it." (Interfax-Ukraine, 26 June 2014)
Without proper monitoring, as a result of continuing fighting, distrust increases, which actually questions the very idea of a true window of opportunity towards peace in Ukraine that could be emerging. Indeed on both sides feelings are exacerbated.
However, the existing meetings also allow for progress and, among the points that were agreed during the 27 June consultations, we find that the situation on the ground during the cease-fire should be jointly monitored by OSCE observers (President of Ukraine, 28 June 2014 00:27), i.e. European and Russian observers (LPR official website, 27 June 19:48). It was obviously impossible to implement such a monitoring over a week-end, but should the cease-fire be extended, then we may start having proper conditions to see it being truly implemented.
New political entities fighting a foreign aggressor
From the start, when answering talks about the coming Ukrainian unilateral cease-fire to allow armed bands to disarm in the East, the Donetsk People's Republic had emphasized it refused to lay down weapons, thinking it would be a "ploy" (Novorossia, 18 June 2014).
The DPR and LPR perceive themselves as independent sovereign Republics. They see themselves as domestically legitimated by the 11 May 2014 referendum (see Setting the stage), even though they are aware that they still lack the international component of legitimacy. They have indeed started working towards obtaining it, first writing to the UN then sending a request to fourteen states for the LPR to two (Serbia and South Ossetia), besides Russia, for the DPR, so far without much success, as only South-Ossetia, itself only internationally recognized by four states, accepted to recognize the LPR on 18 June (see LPR Official website, 23 June; 19 May;  for a summary, see ITAR-TASS, 20 June 2014 ) .
Thus, from their point of view, they are facing an invasion by a foreign state and when or if negotiating do so from an equal footing. As a result, they answered to Kiev's 15 point peace plan with their own 7 conditions (see below for the full text of the two statements). They also reiterated during the 27 June negotiations that the creation of a full delegation to negotiate that should follow the 30 June deadline could only happen if there was a full withdrawal of Ukrainian troops from their territories (LPR official website, 27 June 19:48), which will obviously not take place. Note, that the list of exigence that are to be met by 30 June spelled out by President Poroshenko and the NSDC is as unrealistic, especially in 3 days (President of Ukraine, 28 June 2014 00:27), and underlines again how far apart both sides have grown.
Internationally, the position of the two People's Republics is not that different from the claims held by various independency movements in the post-1945 world, during the period of self-determination.
The Donetsk and Luhansk People's Republics's evolving structure
Politically (and militarily), the two People's Republics are structured as shown in the graph
(click here or on image for a larger graph). It has been constructed out of documents and statements stemming from the official DPR (not up to date) and LPR websites, twitter thread (@dnrpress DPR), Novorossia news agency to which were added mentions found on various actors' FB pages, or emanating from Russian news agency (Itar Tass and Ria Novosti) in their Russian version as the English ones are often different. Considering the fluidity of the situation, changes are to be expected.
Currently the DPR and LPR have decided to create a confederate Union of People's Republics (UPR – Союз народных республик – СНР), which is a smart move to facilitate organization and fighting. The Union was adopted by the Supreme Council of the DPR on 24 June 2014 (Ria Novosti) and by the Supreme Council of the LPR on 25 June. It was ratified in Donetsk by the Union Parliament on 26 June (Novorossia). The overall population of the UPR would be estimated to 6.56 million (4.33 million for the Donestk region and 2.23 million for Luhansk region – Ukrstat, 2014).
According to Itar-Tass (infographics, no date), but no other source could confirm or infirm those data, militarily, they would have between 1800 and 3500 fighters for the DPR and between 3000 and 4000 fighters, including a 500 women support and logistic battalion for the LPR. The UPR forces would thus count between 4800 and 7500 fighters. Note also that on 20 June the creation of a new division of miners was announced by the DPR, while mobilization is ongoing (Ria Novosti, 24 June).
For the sake of comparison and everything being equal, ISIS – or rather the new "Islamic State" – would fight in Iraq with 5000-6000 of its own fighters to which should be added "4000 from allied Iraqi Sunni groups" (Rubin & Godon, 22 June 2014, New York Times). Its fighters benefit notably from the experience of the war in Syria.
A detailed list – that would need to be confirmed by other sources -of weapons available to the two Republics can be found on the Russian Wikipedia pages for the DPR and the Army of South East (LPR – section not updated), with possible origin for each weapon.
Small arms and light weapons are most probably readily available and, according to the 24 June 2014 UN HCHR statement, "there is an increase in arms". We do not know however which type of arms nor if they have been taken from the opposite force or come from other sources.
With the forthcoming post, next week, we shall continue examining the Donetsk and Luhansk People's Republics, focusing on their situation, which is quite challenging. We shall evaluate if it is conducive to war or to peace.
—–
15 points versus 7 conditions
"Peaceful plan of the President of Ukraine on the settlement of the situation in eastern regions of Ukraine

Security guarantees for all the participants of negotiations.
Amnesty for those who laid down weapons and didn't commit serious crimes.
Liberation of hostages.
Establishment of 10 km long buffer zone on the Ukrainian-Russian border. Withdrawal of illegal armed formations.
Secure corridor for the escape of Russian and Ukrainian mercenaries.
Disarmament.
Establishment of units for joint patrolling in the structure of the MIA.
Liberation of illegally seized administrative premises in Donetsk and Luhansk regions.
Restoration of functioning of local government.
Restoration of central television and radio broadcasting in Donetsk and Luhansk regions.
Decentralization of power (through the election of executive committees, protection of Russian language; draft amendments to the Constitution).
Coordination of governors with representatives of the Donbas before the elections (in case of the approval of single candidature, in case of discrepancies – the decision is taken by the President).
Early local and parliamentary elections.
Program of creating jobs in the region.
Restoration of industrial objects and objects of social infrastructure." (President of Ukraine, 20.06.2014 20:30).
For their part, the leaders of the two People's Republic, as well as the movement "People's Front" set seven conditions that should be respected to see the start of "substantive negotiations".
Seven Conditions for the Start of Substantive Negotiations

Withdrawal from the territory of the Luhansk and Donetsk People's Republic of the national guards, illegal armed groups and groups of Kolomoiski and right sector, as well as the Ukrainian army units responsible for the killings of civilians.
Payments by Kiev of compensation to the bereaved families of civilians.
Payments by Kiev to the residents of the Republics compensation for destroyed homes.
Kiev compensation payments to municipalities for damage to utility infrastructure made by Ukrainian troops.
Payments by Kiev of compensation to owners of destroyed industrial facilities.
Agreement by the Ukrainian President and the Parliament on the draft Constitutional Act, defining the status of the People's Republic.
Amnesty to all participants of the militia and to all political prisoners who are in Ukrainian prisons." (Central News Agency Novorossia Novorus.info, Statement Oleg Tsarov, decided on Friday 20 June see Ria Novosti, 23 June – translation Google)